Donor Advised Funds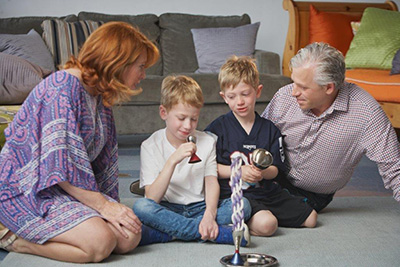 Ensure your legacy is continued from generation to generation.
Establish Your Own Fund with Expert Guidance
With just $2,500 you can invest your donation in the nonprofits you care about most—with the help of JFF. A donor advised fund (DAF) makes managing your charitable giving easy and effective.
With a simple application form you can maximize your donation by having it managed by the Jewish Federation Foundation's Endowment experts, allowing you to focus on the fun part—which programs to support. Make your grants as you wish to:
Your favorite Jewish charities.
Other nonprofit organizations.
The Jewish Alliance of Greater Rhode Island.
Fulfill your synagogue dues.
Each grant recommendation is carefully reviewed to ensure compliance with IRS regulations and JFF policies. JFF will provide you with detailed quarterly reports. Once you establish a donor advised fund, you'll also receive an electronic account for round-the-clock access. Everything is easy to manage, from checking your account balance to accessing your grant-making history and, of course, making grants electronically.
Practice Family Philanthropy Easily
A donor advised fund gives your family the opportunity to experience philanthropy together. You may name up to four signatories for your fund, including your adult children or grandchildren. You may also name successor signatories, to ensure that your legacy of giving is continued from generation to generation
We invite you to review our materials and discuss them with your family and advisors. We look forward to welcoming you to our family of DAF philanthropists.
Questions? Contact Sara Masri at smasri@jewishallianceri.org or 401.421.4111, ext. 223.
Back
© Pentera, Inc. Planned giving content. All rights reserved.